A journey in seductive feminism…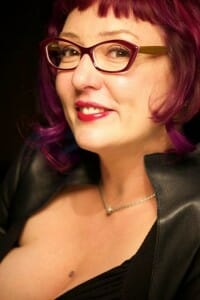 Metaphysically motivated, I am a cultural interloper whose explorations in literature, spirituality, gender theory, theatre, circus, clowning and sex work have helped make me the generous, sensual, compassionate, and kinky woman I am. Most of my adult life has been spent teaching or performing, hence my understanding of how theatrics and personal training converge to create magical reality is immense.
Whether I apply a gentle caress or a harsh stroke, my sentiments are the same: to bring you the most profound and profane experience you could possibly endure.
I believe in the healing powers of bondage/discipline, dominance/submission, sadism/masochism (bdsm) and their potential transcendence to the divine. I cherish assisting others in arriving at those divine spaces and beyond when possible.
Although corporal punishment and pain are incredible tools for psychic release, I feel that conscious and consensual power exchange can manifest itself in many forms. I need not touch you physically in order to motivate you beyond the mundane. Consequently, I encourage you to offer creative and compliant suggestions even though it will be I who ultimately constructs and administers the training programs and scenarios.
Finally, the term "Safe, Sane, and Consensual" can be ambiguous at best, please be assured I will respect your limits while encouraging you to expand them.
Couples, sincere novices, sissies, and devoted foot worshippers are always welcome in My domain. Whether you require training, education or consulting, please be assured that your session time will be personalized to meet your specific needs and expand your desires.
Besides English, I also speak French and am available to travel worldwide.
A Smattering of My Expertise
I studied in the U.S. France and Australia and hold an MA in French and English Literatures with a concentration in Feminist Studies. My interests have been varied and extensive over the years and I use all my skills whether they be directly related to Kink and BDSM or not. Besides Literature and Theatre, some areas of study that I have completed and incorporate directly into my repertoire are:
Cleo Dubois Academy of SM Arts Professional Course where I honed my already vast BDSM skills and now act as Lead Staff Instructor, Fakir Musafar Piercing Schoolwhere I learned to use piercing as a ritual tool for personal transformation, Barbara Carellas' Workshop on Urban Tantra integrating the heavy edges of Kink and BDSM with the ancient practices of Tantric Bliss. I also became a Bondassage Practitioner incorporating my love of bondage, sensory deprivation and muscle release and control, and most recently, I became SFSI certified (San Francisco Sex Information Sex Ed Certification) expanding my sexuality studies. Finally, I have completed over 300 hrs of alternative sexuality workshops at various conferences in addition to teaching.
You may enjoy some of my self produced videos at my Clips4Sale store or at other sites I've shot with over the years: www.seriousbondage.com and www.aliceinbondageland.com.
Some of my other video work over the years includes Dominatrix Waitrix 2003, Night Fangs 2005, and Trial Run 2006.
My writings can be found online and off, in the following publications:
Behind the Whip, Maria Coletsis, 201
Managing Psychic Waste: Transcendance Through Humiliation, "Spirit of Desire: Personal Explorations of Sacred Kink", Harrington, 2011
Welcome to My Parlor, www.carnalnation.com